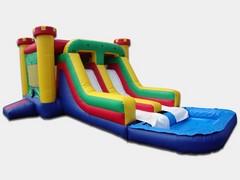 Dual Lane Wet/Dry Combo- $90 Mon-Thursday
Dual lane Wet/Dry Combo with splash pool! 15'H x 16'W x 26' L. Weight 295 lbs. A trailer is recommended but will fit in the back of a pick up truck.
This item has two openings for hoses at the top you can use two hoses or a splitter.